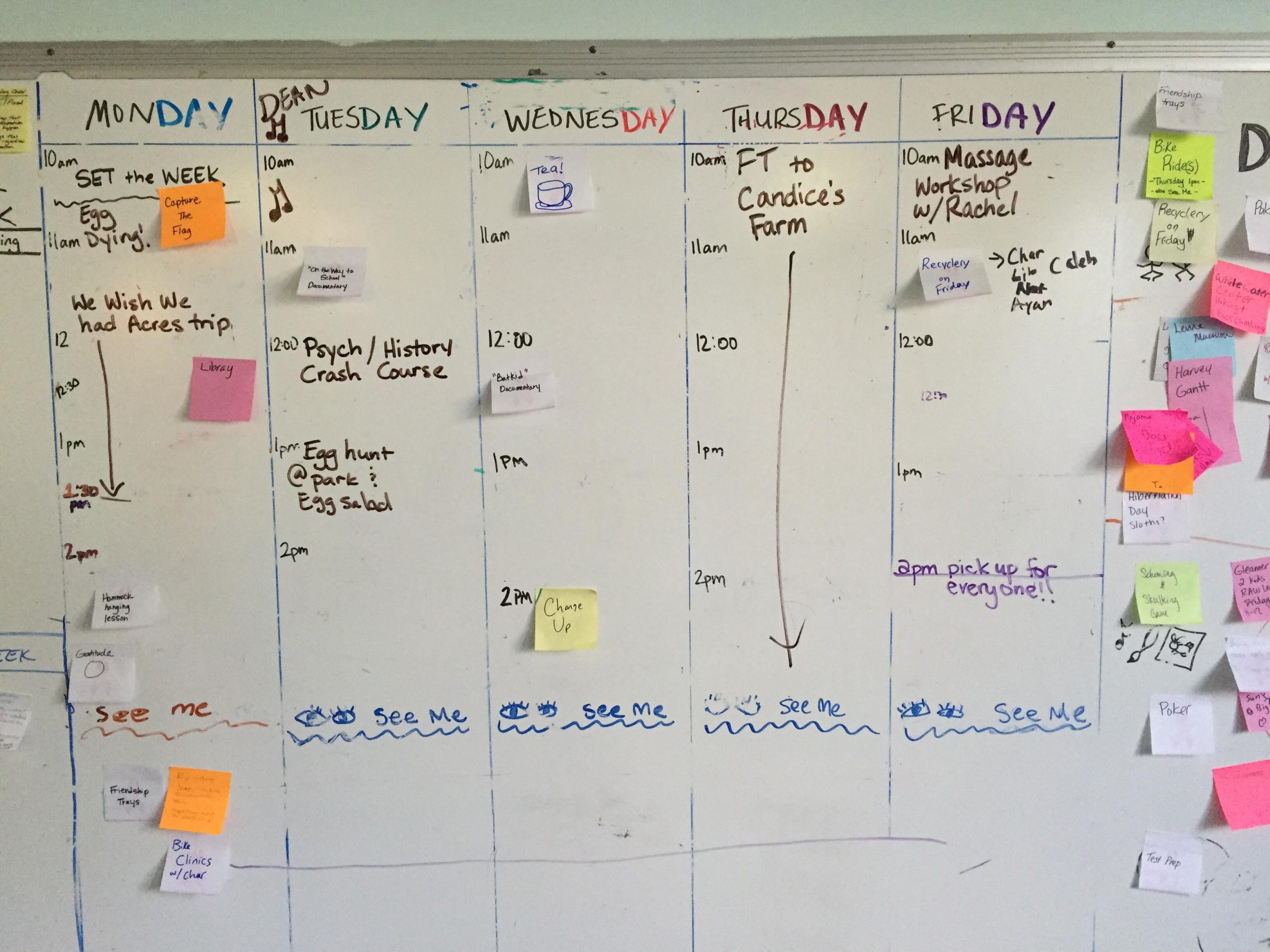 Image Source: https://drew.agilelearningcenters.org/set-the-week-board-for-alc-oahu/
In this blog post, we offer an update on our journey of Project Result 3 in developing digital boards for the Agile For Collaboration project. Through empathetic design and research, we've unlocked potential solutions that add value to agile peer-to-peer learning environments. This article shares our key learnings, insights, and progress, focussing on the first digital board we aim to create: the Set the Week & Offerings/Request board.
The Purpose of the Set the Week & Offerings/Request Board

At the heart of an agile learning environment lies a unique ritual: the Set the Week & Offerings/Request Board. The Offerings/Request Board is a collaborative activity where students can freely offer their learning activities to others or request for activities they want to learn, encouraging group collaboration and peer-to-peer interaction. This platform supports planning group activities and individual tasks in a shared personal agenda, facilitating the agile learning process. 
In essence, it honours people's time, increases collective intelligence and provides a medium for reflection. It embodies the principle of 'learning with intention', encouraging students to understand the 'why' behind their offerings or requests.
The Digital Transformation Journey
Transforming a physical tool into a digital one is much more than coding. It demands planning, thorough research, and innovative design to ensure that digitalisation amplifies the benefits and dampens the drawbacks of the physical version. 
We adopted a design-led approach, empathising with all stakeholders to achieve this. We conducted co-creation sessions with facilitators and learners from Agile Learning Centers (ALCs), alongside consultations with students and teachers from traditional schools. The research process illuminated several needs that digital technology could augment the board's functionality.
We identified three innovative concepts, each aiming to leverage digital technology to resolve specific needs. Let's delve into these concepts:
Concept 1: The Stakeholder Network Platform
Our first concept, the Stakeholder Network Platform, aims to connect students with professionals, experts, and enthusiasts in various fields. This concept aims to increase the quality and variety of offerings and accelerates matchmaking. "This platform could allow us to enlarge and capture our network that can provide authentic learning offerings. It reflects a kind of marketplace of learning opportunities," validated an agile facilitator we interviewed. 
Concept 2: The Learning Instagram
Our second concept, The Learning Instagram, is designed to simplify the documentation of learning activities. This platform makes the visualisation of learning progress seamless and interactive, eliminating the challenge of effectively documenting the learning process in agile learning environments and capturing learning portfolios.
Concept 3: The Intention Explorer 
Our third concept, The Intention Explorer, could add depth to the learning process. It encourages learners to reflect on the learning intentions behind their requests and offerings. This platform fosters personal growth and self-awareness among learners, transforming the learning journey into an exploration of personal intentions.
Moving Forward with Concept 1: The Stakeholder Network Platform
After careful consideration and several validation sessions, we have decided to move forward with developing elements of The Stakeholder Network Platform. This concept addressed the most pressing need among stakeholders, showcasing the potential to add value to the agile or traditional learning process.
Traditional schools see this tool as a valuable asset to strengthen a 'whole school approach'. In contrast, ALCs view it as a powerful tool to expand their self-directed learning offerings/requests, the cornerstone of an agile learning centre. 
In conclusion, we are excited to proceed with the scoping and development of this concept. While continuing to gather insights from our target groups, we are venturing into visualising some early prototypes of this digital tool, looking forward to making a worthwhile contribution to the world of agile learning. The future of learning is agile, and we're thrilled to participate in this movement. In the next blog post, we learn about the second board that we pivot into a digital variant, the Community Mastery Board. Stay tuned for more updates!